OUR LIFE IN CHALABRE:



An American Expat in
the South of France
THE GARDENS OF CHALABRE
(June 2005)
We begin our virtual promenade through of the Gardens of Chalabre at our house marked "A" on the west side of Chalabre's Old Quarter.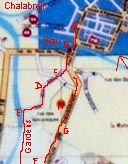 Going South, we cross the bridge over the river Blau (marked "B").

Then we walk down the first street on the right (marked "C"), lined with fine houses with colombages. Just at the end of that steet is a little canal (mostly dried up now) that used to carry water to a mill.

Then, to the right, is the road that crosses the Gardens of Chalabre (marked "D").

The Gardens are plots of land owned by various residents. There are plots of land on both the right and left sides of the road, until it curves right towards the river Hers (marked "E").

A beautiful rosebush
(also seen to the right on the photo above)


Plots #2 and #3, beautifully landscaped, left of Nicole's (also on the right side)


A colorful chicken coop on the left side of the road


Serious agricultural work going on on plot #5 (right side)


Another beautifully landscaped and very large plot (left side)
This is where the road curves right. At the end, the road curves right again,when it runs into the river Hers (marked "E").
| | | |
| --- | --- | --- |
| The road curves; on the right, the last garden on that side; on the left, more agricultural plots. | The road curves again and turns into a dirt road; the plots are on the left, the river Hers on the right. | The River Hers meanders towards Chalabre. |
We now travel South, alongside the Hers (on the right).
| | | |
| --- | --- | --- |
| Our neighbor Mr. Martinez's garden, serious agriculture going on here. | The Hers, still on the right side of the road. | The garden we would like to buy, just fruit trees and grass, ideal for picnics. |
| Next to it, two unattended plots largely overgrown by vegetation. | Next to them, another of our neighbors' garden (the Gimenez), well tended. | The Gimenez' garden is the last of the small plots. |
After that, the road continues, but small gardens are replaced by large fields which stretch all the way to the main road (marked "G").
| | | |
| --- | --- | --- |
| The road goes ever on. | The main road in the distance to the left, lined with two rows of platane trees. | The fields; Chalabre's Castle center, on the horizon. |

By the Riverbank...



A poppy flower...

| | | |
| --- | --- | --- |
| White water... | Stone steps going down. | The Hers runs through. |
At the end of the road, we reach a public camping ground, adjacent to the local Stadium, Stade Lolo Mazon, after a famous local player (below map border, indicated with an "F").
| | | |
| --- | --- | --- |
| Tribute to Lolo Mazon. | The Stadium. | Tribute to Rugby. |
Then, we return to Chalabre via the Main Road (marked "G").
| | | |
| --- | --- | --- |
| The Main Road towards Chalabre, outside the Stadium. | On the right side, more hills and fields with grazing cattle. | An old ruin, near the village's entrance. |
| Arriving in Chalabre. | Mr. Gimenez training for the Tour de France. | A lovely big house by the road. |