Doc Ardan - The City of Gold and Lepers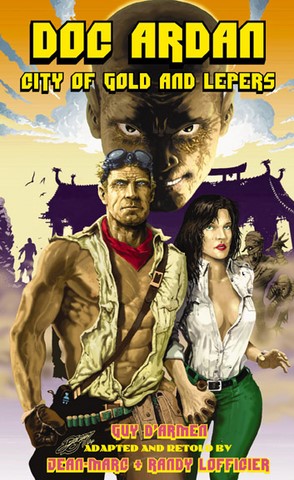 DOC ARDAN: CITY OF GOLD AND LEPERS by Guy d'Armen adapted by J-M. & R. Lofficier; Cover by Dean Zachary.
Black Coat Press, 2003
$20.95, 5x8 trade pb, 256 pages. ISBN: 1-932983-03-1.

The City of Gold and Lepers was a prophetic science fiction / adventure novel written by Guy d'Armen in 1928, probably inspired by Fu-Manchu (1913) and predating Doc Savage (1933).

Tibet, 1927. Intrepid explorer Doctor Ardan is taken prisoner by the diabolical Natas, who has discovered the secret of making gold through nuclear fusion, and rules over a city of slaves whom he controls with an unholy brand of leprosy. Can Doc Ardan, with the aid of beautiful Louise Ducharme, thwart the Oriental Mastermind's evil schemes and escape from the City of Gold and Lepers?

Scientist and world-saving explorer Doctor Ardan was created in 1928, five years before Doc Savage. This ground-breaking SF adventure that predicted the use of nuclear energy 16 years before the Manhattan Project has been translated by award-winning authors Jean-Marc & Randy Lofficier and includes original black & white illustrations and a historical foreword about the Ardan family, from Michel Ardan (From the Earth to the Moon) to Dale Arden (Flash Gordon).