Over Here: An American Expat in the South of France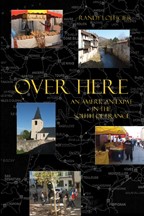 OVER HERE: AN AMERICAN EXPAT IN THE SOUTH OF FRANCE
by Randy Lofficier

6x9, 264 pages
100 b&w photographs
ISBN-10: 1-932983-68-6
ISBN-13: 978-1-932983-68-5

Everybody searches for that special place to call "home." How was I to know that mine would be found in a picture postcard village in the foothills of France's Pyrénées mountains?

OVER HERE is the first-year diary of a California couple who boldly went where no Angelenos had gone before, relocating to a small village in the South of France.