OUR LIFE IN CHALABRE:



An American Expat in
the South of France
THE REGION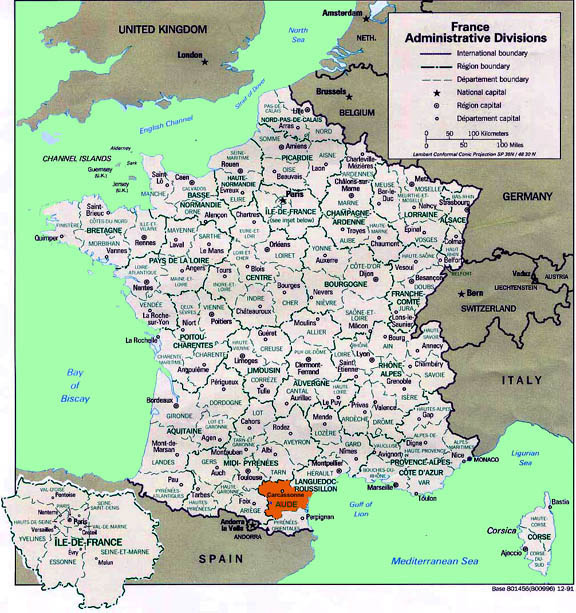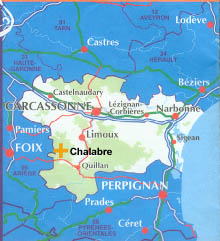 CHALABRE IS LOCATED AT THE YELLOW CROSS, IN THE WESTERN PART OF THE DEPARTMENT OF THE AUDE (NAMED AFTER THE RIVER AUDE WHICH CROSSES IT), SOUTH OF THE PYRENEES MOUNTAINS, WEST OF THE MEDITERRANEAN, NEAR THE BOUNDARY OF THE DEPARTMENTS OF THE ARIEGE (major city: FOIX) AND THE PYRENENEES ORIENTALES (major city: PERPIGNAN).

THE AUDE'S MAIN CITY IS CARCASSONNE (30 MILES NORTH-EAST OF CHALABRE) (official site).
CARCASSONNE IS ONE OF THE MOST FAMOUS MEDIEVAL CITIES IN SOUTHERN FRANCE.
CARCASSONNE'S AIRPORT IS NAMED SALVAZA AND OFFERS DAILY FLIGHTS TO LONDON VIA RYANAIR
(official site).

THERE IS A NIGHT TRAIN THAT LEAVES CARCASSONNE AT 11:30 pm OR SO AT NIGHT AND ARRIVES AT PARIS-AUSTERLITZ AT 7:45 am THE NEXT MORNING. THE RETURN TRAIN LEAVES AROUND 9 pm AND GETS TO CARCASSONNE AROUND 6 am THE NEXT MORNING. THE RATES ARE VERY REASONABLE (about 100 EUROS RETURN) IF YOU BOOK THROUGH THE SNCF WEBSITE (link).

THE OTHER MAJOR TRANSPORTATION HUB (TRAINS, AIRPORT) IS TOULOUSE (60 MILES NORTH-WEST OF CHALABRE). ITS BLAGNAC INTERNATIONAL AIRPORT OFFERS MANY DAILY CONNECTIONS TO PARIS, LONDON, ETC.(official site). THERE ARE ALSO FLIGHTS TO PERPIGNAN'S RIVESALTES AIRPORT (link).

THE NEAREST AUTOROUTE (MOTORWAY) IS LOCATED IN PAMIERS (30 MILES NORTH-WEST), CONVENIENT TO TRAVEL WEST AND/OR NORTH TOWARDS TOULOUSE AND PARIS. ONE CAN ALSO ACCESS THE AUTOROUTE AT CARCASSONNE, TO TRAVEL SOUTH OR EAST, TOWARDS LYON, MARSEILLE, NICE OR SPAIN.

CLOSER VIEW: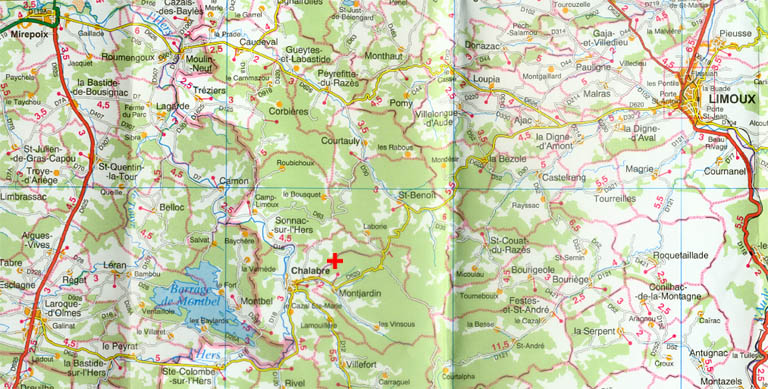 CHALABRE IS MARKED WITH A RED CROSS, A MILE OR SO EAST OF THE LAKE OF MONTBEL.

THE TWO NEAREST LARGE TOWNS ARE:

MIREPOIX (IN THE ARIEGE, 15 MILES NORTH-WEST) (official site), A BEAUTIFUL MEDIEVAL CITY WITH A FAMOUS MARKET.

LIMOUX (IN THE AUDE, 15 MILES NORTH-EAST) (official site), FAMOUS FOR ITS SPARKLING WHITE WINE CALLED THE BLANQUETTE DE LIMOUX. THE LANGUEDOC IS THE 3RD LARGEST FRENCH WINE-GROWING REGION AFTER BURGUNDY AND BORDEAUX.